Coopers Fire take part in their first volunteering day at the Aldingbourne Trust.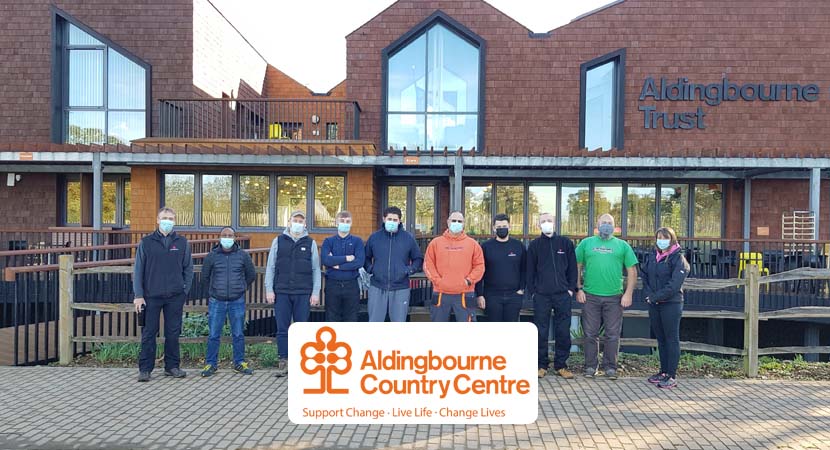 This month saw our first Employee Volunteering day, where a small team from Coopers Fire went along to support the Aldingbourne Trust by painting a building at their Country Centre. For charities like the Aldingbourne Trust, volunteers are so important to the Trust by allowing them to continue doing their fantastic work supporting the people who really benefit from their services.
Coopers Fire are a family-owned company that want to give back to the local area and support the health of the community. An employee volunteering day allowed multiple departments within Coopers Fire to work together for a worthwhile cause along with bringing the team together. Helping others is important to us at Coopers Fire and we will be taking more of the team to other volunteering days in the future.
Aldingbourne Trust support people with learning disabilities and/or autism to reach their potential across Sussex. They provide real skills, care and jobs in a very 21st century way. They believe in strong partnerships between social enterprise and charity fundraising to give adults with learning disabilities real choices and more independent lives.
The team from Coopers Fire were given some gloves, a load of paint and some paintbrushes and off they went! With a good deal of fun and banter along the way, the team certainly came away with a great sense of achieving something worthwhile.  So – a big thank you to Gavin Friend, Muley Teclai, Neil Gahan, Carl Stanley, Adam Brown, Tim Appleton, Matt Robins, James B Brooks and Garry Martin – you did an excellent job helping out at the Aldingbourne Trust, so thank you!
To learn more about the Aldingbourne Trust and if you would like to help visit their website below.