Residential and Domestic Housing
Domestic fire curtains are providing homeowners with the means to achieve beautiful open plan living without compromising fire regulations. Sympathetic to interior design, our fire curtain and smoke curtains are developed to comply with fire regulations and local building control.
We can visit your property for a site visit (this is free of charge and organised at our discretion dependent on location and availability).
Please call us if you require any further assistance with your project:
Jamie Whellans – Domestic Sales Manager
Email: jamie.whellans@coopersfire.com | Mobile Tel: 07774 617748
Head Office Tel: 02392 454405 (select option 2 for Sales)

Whether you're replacing a non-loadbearing firewall and door in a Georgian Villa or creating a modern open plan kitchen in a penthouse apartment, Coopers domestic fire curtains and smoke curtain barriers provide designers the freedom to create modern open plan living environments without compromising interior design for fire regulation compliance.
Developed to work with your home, Coopers fire curtains remain hidden within your ceiling until required. Every Coopers fire curtain is manufactured in the UK and independently Third Party Accredited, we are unique in guaranteeing Local Building Control approval.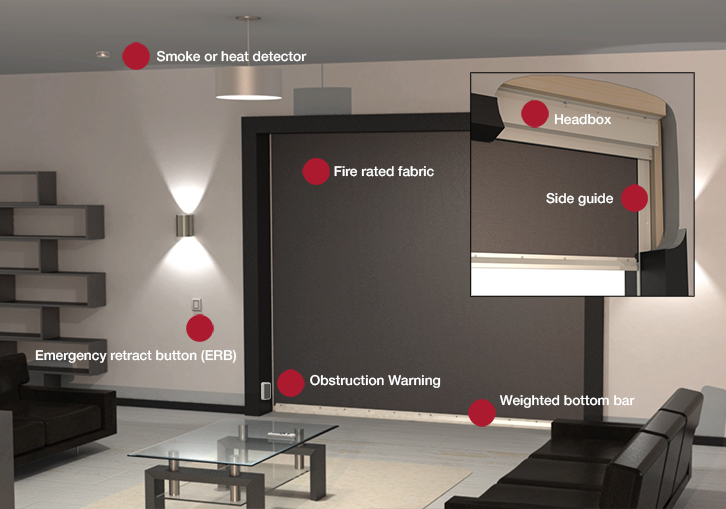 Headbox – Housing for the curtain in its retracted state and houses the motor.
Side guides – These are attached either side of the opening and can be face fixed or recessed.
Fabric and weighted bottom bar – Deploys in the event of fire and acts as the barrier between rooms and openings.
Smoke detector or heat detector – Used to detect smoke and / or heat signaling to the control panel to allow the curtain to deploy. (See Optional Extras for further information)
Emergency retract buttons – These sit either side of the curtain (similar size to a light switch) and allow the occupants to raise the curtain if it has fully deployed. The curtain will redeploy after a set time. The battery will allow this operation to occur 5 times. (See Optional Extras for further information)
Obstruction warning system – Used to detect an object or piece of furniture that has been accidentally placed in the drop zone of the fire curtain which would prevent it from deploying to its fire operational position. (See Optional Extras for further information)
Control panel and connection box – Used to control the ascent and descent of the curtain and requires permanent power. It also contains the battery backup.
Installation and commissioning – Any construction works to prepare the installation area will need to be completed by others prior to installation.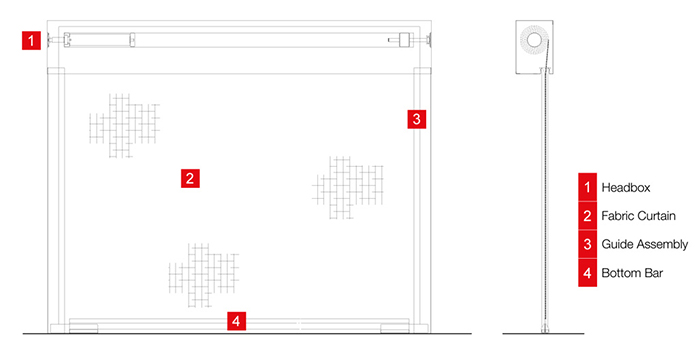 What is a fire curtain?
Fire curtains are comprised of a fire resistant fabric, headbox, side guides and bottom bar. The curtain headbox and side guides would be fixed to a structural opening and the bottom bar is attached to the bottom of the fabric and deploys to finished floor level.
Once installed, the material can be built up (by others) around the headbox and side guides to conceal them. The headbox can be above a suspended ceiling, with the bottom bar flush or overlapping the plasterboard. The wall can be built up around the side guides of the curtain. A 12mm gap is required in front of the side guide for the fabric to deploy through.
Please note: Nothing can be fixed or glued to the metalwork or curtain and we recommend a 5mm gap between any material and the side guides.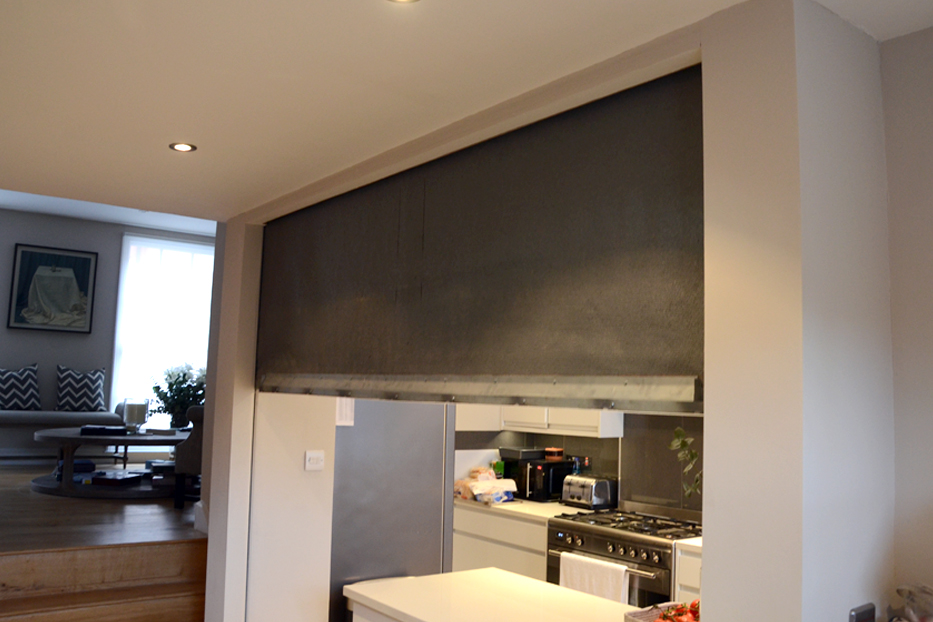 benefits
Independent Third-Party Accreditation
Slimline and able to be concealed in walls and ceilings
Bespoke sizes, made to measure to fit your opening
Allows for open plan designs
View our Domestic Homes Fire Curtain Brochure