The implementation of fire-resistant barriers, such as fire doors and curtains, into a building's design divides space into compartments.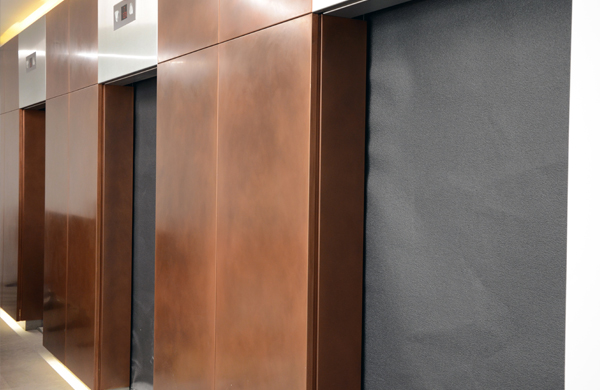 In large commercial premises, there are multiple challenges when it comes to building compartmentation and passive fire protection. With the rise in popularity of open-plan layouts, it has become increasingly impossible to utilise fire doors, due to the lack of walls. Where fire doors cannot be implemented, fire curtains may be installed.
A great alternative to fire doors is the use of fire curtains, as they can offer the same levels of fire resistance and smoke control. Fire curtains can be set within the ceiling and walls, or face fixed depending on the building requirements. They will then sit in place and remain hidden, always ready to drop when needed in a fire situation due to their gravity fail-to-safe operations, even when all areas of power are not available for consumption.
Why fire curtains
It's a regular heartbreaking occurrence that the main cause of death in a fire incident continues to be due to the excessive inhalation of smoke, toxic fumes and gas. Fire curtains help prevent the further spread of smoke and flames and reduce the risk of death due to inhalation.
Fire-resistant curtains serve three main purposes in a building: to limit the initial development of a fire, to prevent the spread of fire, and to protect escape routes. An effectively fitted fire curtain can help to suppress the growth and development of a fire and smoke within a building.
What are the purposes of fire curtains?
Fire curtains work to decrease levels of smoke and fire before they can spread further throughout a section of the building. They are typically lightweight and rarely need additional support when being installed, meaning that the inclusion of a fire curtain rarely changes the design of a building.
Installing fire curtains into a building's design separates the space into individual compartments. With the increasing rise in popularity of open-plan layouts, it has become increasingly difficult, if not impossible, to incorporate fire doors where there is a lack of wall space. Fire curtains can be installed in almost any space.
Level of integrity
The fire resistance and integrity of components used in building construction have come under increased scrutiny. This in turn has placed a higher degree of focus on the level of integrity of every product. In relation to the fire resistance test for curtains and other fire barriers the UK testing certification is EN BS 1634-1. It investigates how a fire curtain maintains its integrity when exposed to fire. The level of integrity illustrates a product's fire resistance level.
Where are fire curtains installed?
Like we mentioned above, fire curtains have minimal limitations when it comes to installation. A fire curtain can be used to allow open plan building designs to still meet fire regulations. Areas where there are stairs and lifts or lobbies, which are arguably the most critical escape routes, can employ fire curtains to help control smoke and prevent smoke from spreading through the staircase and lift shafts. With the support of intricate testing, a fire curtain is designed to withstand the heat and effects of a fire for longer periods.
How Coopers Fire can help
From smoke curtains for large atria to domestic fire curtains that facilitate open plan designs, we've developed an extensive range of fire curtains and smoke curtains to work with every building sector and application to provide designers with bespoke solutions for every fire protection problem. Get in touch to discuss your fire curtain requirements today.