Coopers Fire launch new smoke curtain – The SmokeStop Concertina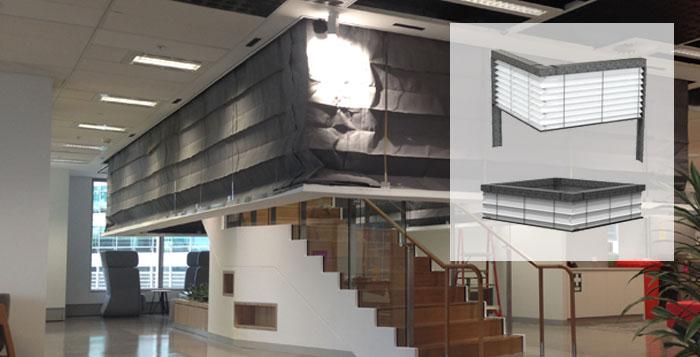 Coopers Fire has added to its range of smoke and fire curtains with the release of the innovative new SmokeStop Concertina smoke curtain barrier system.
The unique features of the SmokeStop Concertina allow it to be used in place of traditional smoke control features, allowing architects, fire engineers and specifiers to create open plan designs which meet all the requirements of a building's smoke control strategy.
CE Marked
Compliant to BS EN 12101-1:2005+A1:2006 (Smoke and heat control systems. Specification for smoke barriers)
Classified as DH60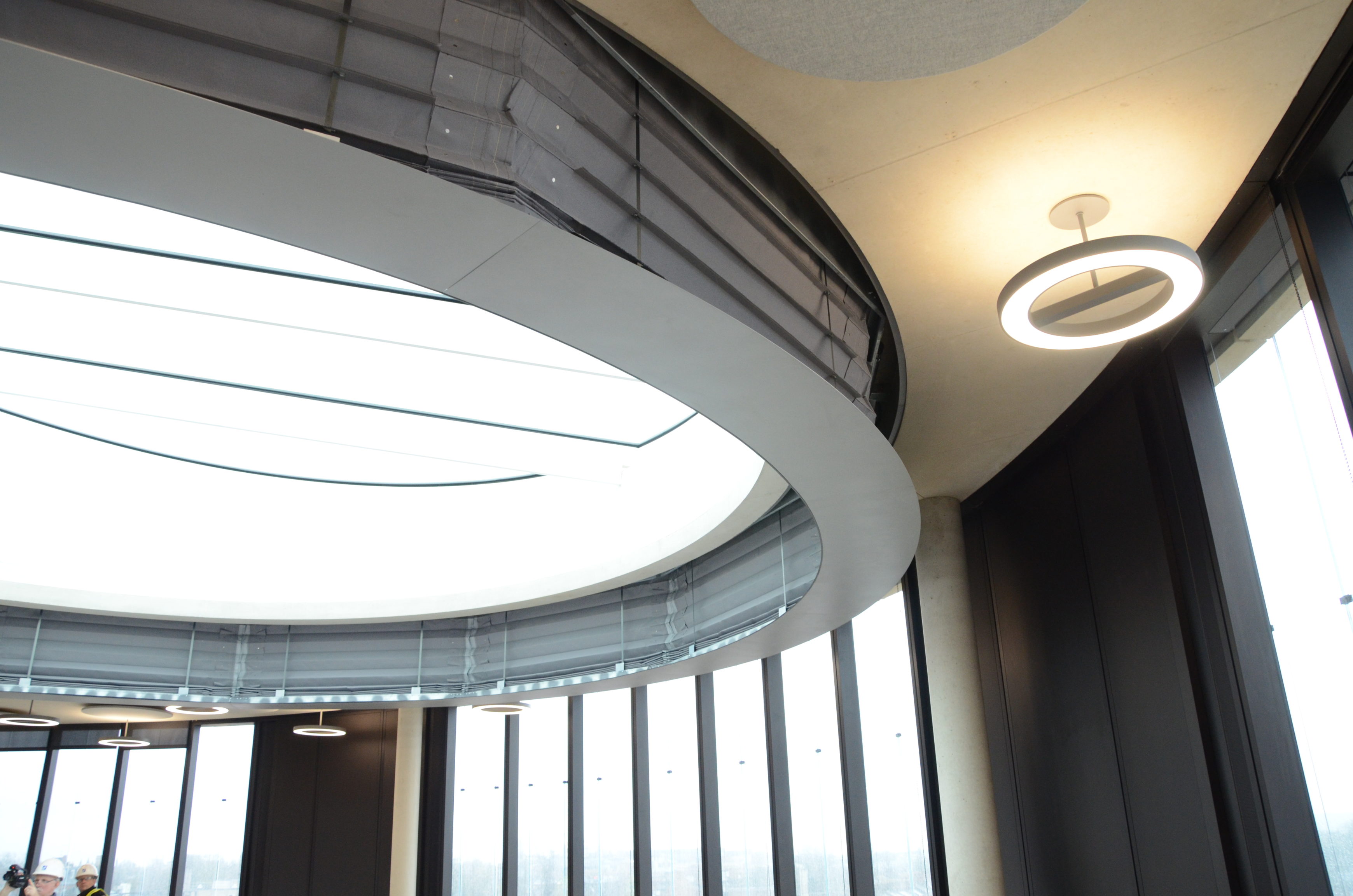 The SmokeStop Concertina remains invisibly retracted until activated by an alarm or detector signal, at which time it will descend safely to its operational position to control smoke and assist with smoke channelling, ensuring that areas, such as means of escape, remain tenable and free from smoke.
Suitable for a range of building applications, the SmokeStop Concertina is a multi-sided smoke curtain that removes the requirement for columns, corner posts, side guides and intrusive ceiling interfaces. This allows it to be used instead of multiple, individual vertical smoke curtains and integrated with ceilings unobtrusively.
Available in closed shapes, such as squares and faceted circles, the SmokeStop Concertina "closed" system is manufactured on a bespoke basis for each project.
Available in unlimited widths, with a maximum drop of 6 metres, the SmokeStop Concertina can be also be supplied in open (U, L, arc and dog leg) shapes.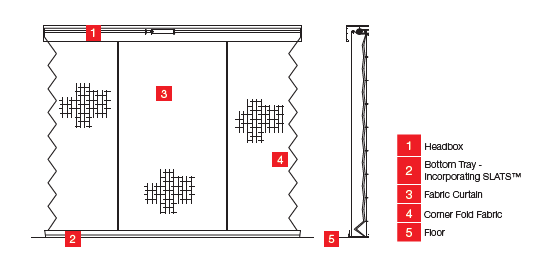 The smoke and temperature resistant fabric used in the Concertina is innovatively folded to allow the fabric to stack neatly into the compact steel head box, and fall perfectly when the smoke curtain is deployed. The SmokeStop Concertina also features Coopers Fire's patented Total Gravity Fail-Safe (TGFS) system which ensures the barriers deploy by controlled descent upon initiation or during any power or system failure.
Like all Coopers Fire smoke and fire curtain products, the SmokeStop Concertina has been rigorously tested. It is CE marked and is third party certified through Warrington Fire's Certifire scheme. It is tested following the requirements of BS EN 12101-1:2005+A1:2006 and utilising temperature and pressure conditions of BS EN 1363-1:2012 and classified to DH60 in accordance with BS EN 13501-4:2007+A1:2009.
CERTIFIRE is an independent third party certification scheme by Warrington Fire that assures performance, quality, reliability and traceability of fire protection products. Recognised by regulatory authorities worldwide, it is an internationally respected mark of fire safety and one of the most authoritative in the industry.
Download documentation
Like all of the Coopers Fire products, specifications, certificates and technical drawings (PDF and DWG versions) can all be downloaded from the website.
Click on the buttons below to take you to the relevant documentation.
Coopers Fire has a successful history of manufacturing fully compliant fire and smoke curtain barrier systems and recently became the first manufacturer to achieve full compliance to the new British Standard BS 8524 Parts 1 & 2 for active fire curtain barrier assemblies.
In addition, Coopers Fire is the only fire and smoke curtain manufacturer with independent third party accreditation for the installation, commissioning and maintenance.
TO GET A QUOTE OR TO FIND OUT MORE ABOUT THE SMOKESTOP CONCERTINA OR ANY OF OUR FIRE AND SMOKE CURTAINS, EMAIL SALES@COOPERSFIRE.COM