Coopers Fire are exhibiting in the UK Pavilion at Intersec Dubai 2019 – 20th to 22nd January 2019.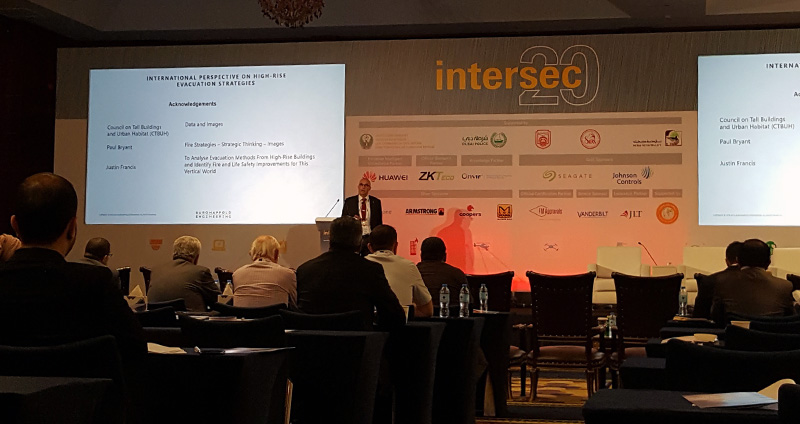 Intersec 2019 is the world's leading trade fair for Security, Safety & Fire Protection.
Coopers Fire will be exhibiting in the UK Pavilion on STAND F38 in HALL 4.
Coopers Fire will be proudly exhibiting alongside our UAE distributors, Dosteen Doors, who are based in Dubai, UAE. Dosteen Doors have installed numerous fire and smoke curtains throughout UAE including the Louvre in Abu Dhabi.
As the largest, premium and most diverse, the show's influence has spread not only across the Middle East, Africa and the Indian subcontinent but has gone well beyond, offering thousands of influential trade buyers the latest security & safety solutions and exciting new opportunities from best brands in the world of security.
Commercial Security, Cyber Security, Smart Home, Fire & Rescue, Safety & Health, Homeland Security & Policing, Perimeter & Physical Security products and innovations come together in one place. For major brand manufacturers, newcomers, local or international, Intersec, with its unique product diversity, is one of the most important industry meeting points and a source of technologies for wholesale and retail trade as well as for corporate buyers.
As one of the leading worldwide manufacturers of Fire and Smoke Curtains, Coopers Fire will be promoting their full range of products at the show. These include products compliant to BS, EN and UL standards and in particular, the products that are approved to the only global fire curtain standard; BS 8524.
BS 8524 is an important standard for the fire curtain industry because it provides comprehensive guidance to specifiers, manufacturers, installers, building inspectors and buyers. In summary, this guidance covers the important attributes that must be achieved with a fire curtain and the methods required to achieve a good installation and an ongoing, serviceable fire curtain barrier. Furthermore the standard provides assurance to end users, facilities managers and building occupiers that the product has been through and achieved a whole series of third party witnessed testing against a set of discerning criteria.
NEW PRODUCT – The FireMaster Cleanroom fire curtain
Coopers Fire launched the FireMaster Cleanroom fire curtain product in December 2018.
Come and talk to Coopers Fire at Intersec 2019 about this new innovative fire protection product that is the world's first fire curtain suitable for cleanroom environments.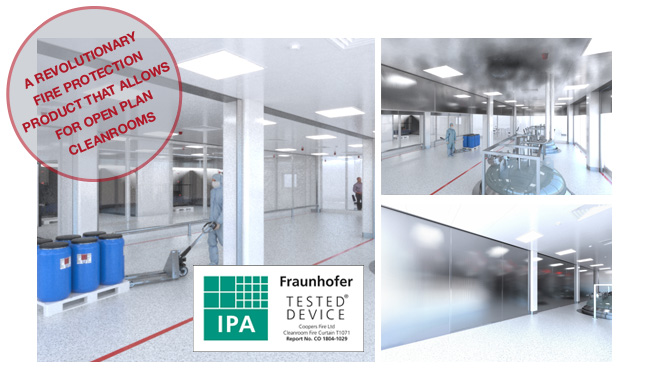 The FireMaster Cleanroom has been fire tested as part of Exova Warrington's CERTIFIRE scheme. Additional tests for cleanroom suitability were also carried out in Germany at the Fraunhofer Institute for Manufacturing Engineering and Automation. The Fraunhofer TESTED DEVICE® is an internationally renowned certification mark for products that have been objectively qualified in accordance with recognised standards and guidelines with regard to their cleanroom compatibility.
The FireMaster Cleanroom fire curtain offers 2 hours of fire resistance and allows designers of cleanrooms the flexibility to help create open plan environments already afforded to more traditional manufacturing facilities.
If you would like any more information about Coopers Fire exhibiting at Intersec 2019 or further information about our products,
please contact us on info@coopersfire.com or call +(0) 2392 454 405.