Coopers Fire Concertina Fire Curtain provides fire protection and compartmentation, while preserving the architectural vision of an open plan design.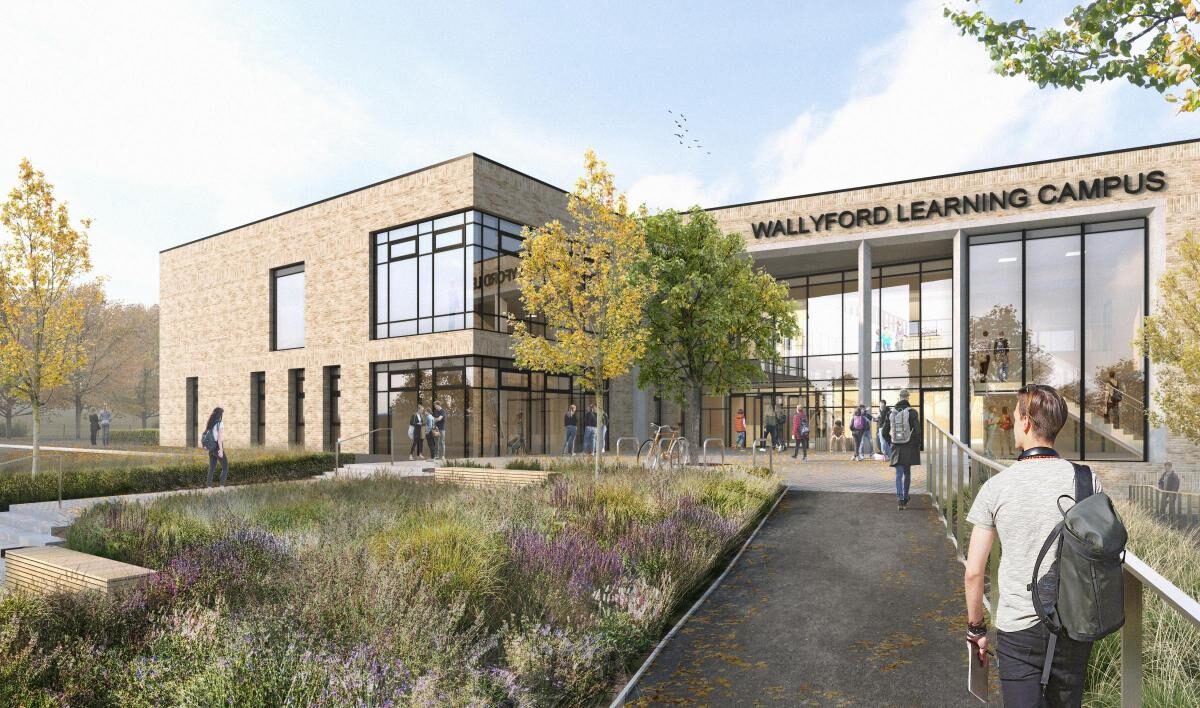 About the Building
Wallyford Learning Campus, a new build educational facility located in East Lothian, Scotland, was designed by JM Architects. The school boasts multiple floors, housing spacious classrooms, laboratories, and common areas. Notably, the architectural design featured an open void encircling the staircase on level 2, presenting a significant fire safety challenge.
Initial Contact and Solution
In November 2020, main contractor, Morrison, a Galliford Try Company, took on a major new education campus project, Wallyford Learning Campus. During the early stages, JMA Architects, recognised the need for advanced fire safety solutions to enclose the open void on the top floor.
JM Architects reached out to Coopers Fire, a leading provider of fire safety solutions, for a solution. Coopers Fire, with their expertise in smoke and fire curtains, proposed a cutting-edge solution for the project. They suggested the installation of their FireMaster Open Concertina Fire Curtain, to enclose the void and surround the staircase on level 2, providing minimum 30 minutes integrity (E) and  ensuring both fire safety compliance and architectural integrity. 
Why were Fire Curtains Used, and What Products were Installed?
In response to the fire safety requirements of Wallyford Learning Campus, Morrison and JM Architects recognized the importance of implementing reliable measures to contain fire. The open void on the top floor posed a significant threat, potentially allowing fire to spread rapidly to other levels.
Coopers Fire, FireMaster Open Concertina, was identified as the ideal solution. This large 3 sided open concertina curtain (each side spanning at least 7m width) provides fire protection of 180min Integrity (E) and 30 min Radiation (EW), without the requirement for any corner posts or beams. The fire alarm activated deployment of the FireMaster Concertina creates a dependable barrier, sealing off the void in the event of a fire. This effectively prevents the passage of fire thereby safeguarding the school's occupants and enabling secure evacuation.
In addition, to ensure the curtains drop path remains obstruction free, multiple vertical obstruction warning monitors were installed around the perimeter of the curtain to make sure it is kept clear from obstruction. If the detection zone is obstructed, a warning device is activated after 5 minutes. This time period can be adjusted if required.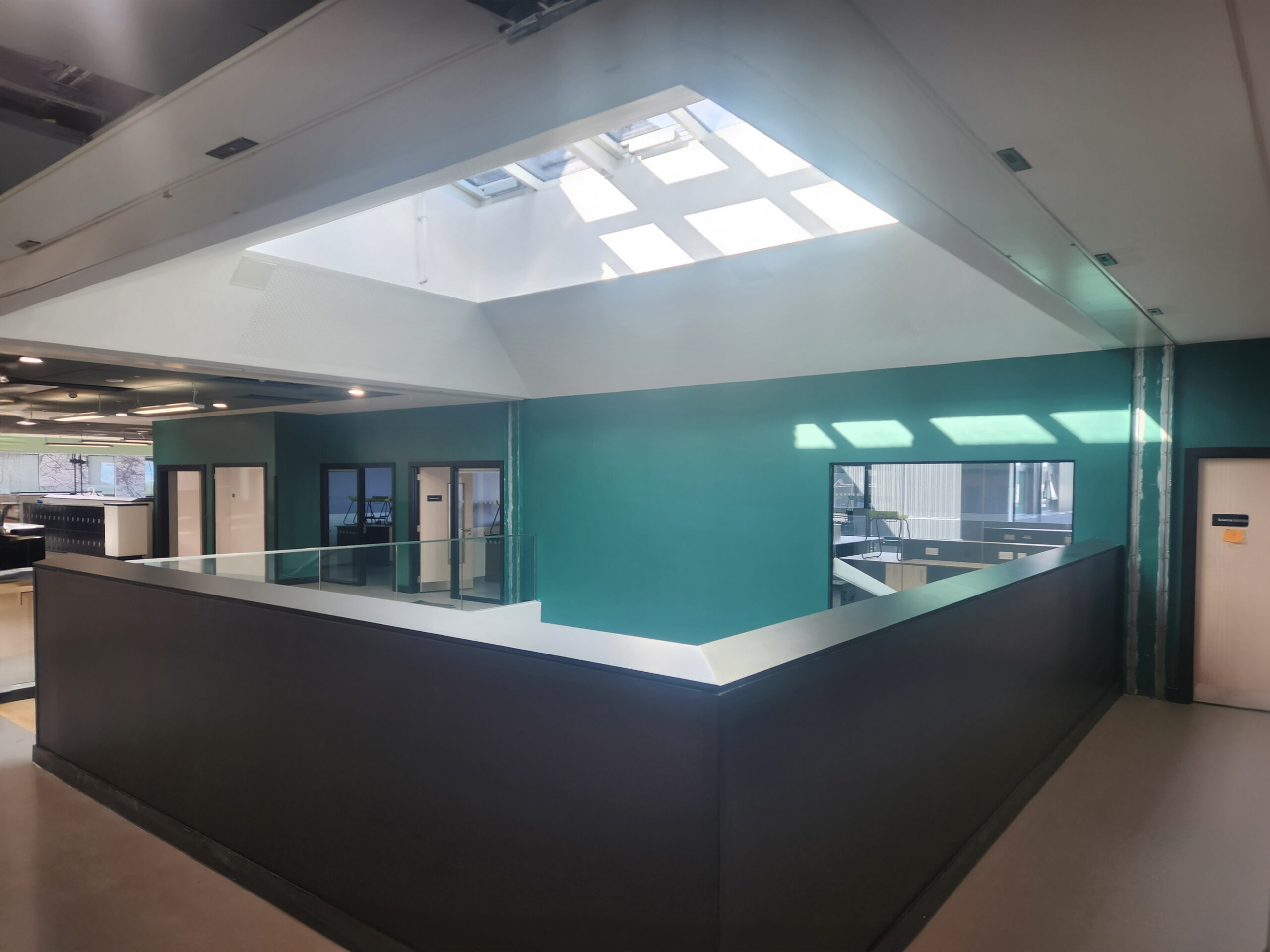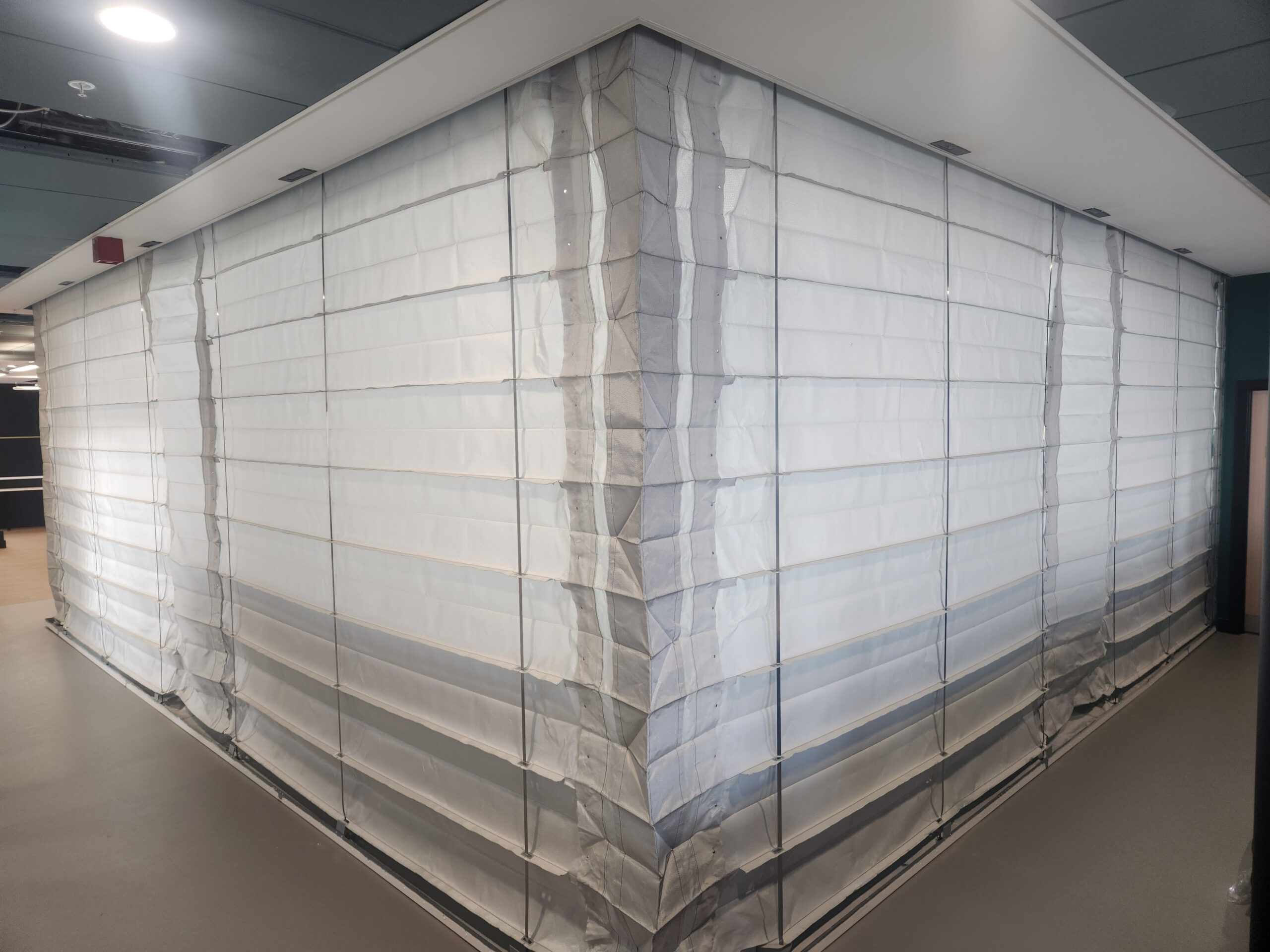 Benefits of Using Coopers Fire Smoke and Fire Curtains
Superior Fire Safety Compliance: The installation of Coopers Fire fire curtains provide fire safety compliance, meeting all necessary regulations and standards, including BS-8524 Parts 1 + 2.
Preservation of Architectural Vision: Coopers Fire's innovative smoke and fire curtains allowed JMA Architects to retain their vision of an open and spacious building design. The curtains remain discreetly hidden when not in use, blending with the school's architectural aesthetics.
Effective Space Enclosure: By using the compact headbox for the FireMaster Concertina Fire curtain, Coopers Fire provide an effective solution for enclosing the open void surrounding the staircase on level 2, whilst maintaining a discreet profile.
Bespoke Design, Manufacture, Installation and Service: Coopers Fire bespoke design, manufacturing, installation and servicing ensures every step of the process adheres to quality, compliance and standards across the board.
Automated Deployment: Coopers Fire's smoke and fire curtains are linked to existing fire alarm systems, instantly activating when a fire is detected. Alongside this, Coopers Fire patented Gravity Fail Safe (GFS) system ensures deployment if loss of power. This quick response significantly minimizes risks to occupants and property.
Customizable and Flexible Design: Coopers Fire's smoke and fire curtains offer a customizable and flexible design, allowing for tailored solutions to suit the unique requirements of the space.
Obstruction Warning System – Vertical (OWSV) A OWSV system can be installed so that the sensors are flush to finished ceiling level. This helps maintain the low visibility profile of the curtain, keeping it discreet and in keeping with the architectural open plan design. If anything is detected by the OWSV monitors, an alarm, or voice warning, will play after 5 minutes (or adjusted to a length of time required.)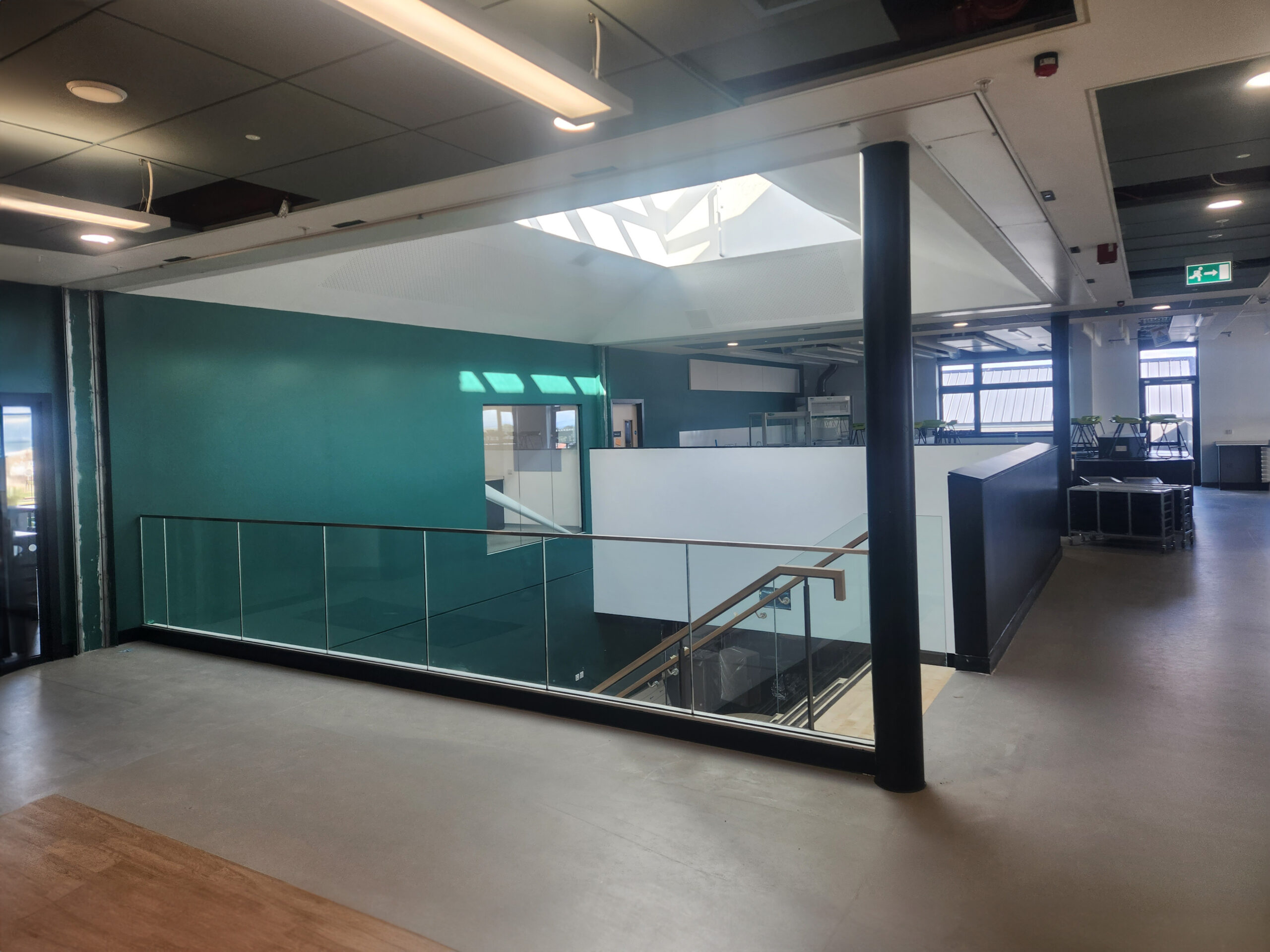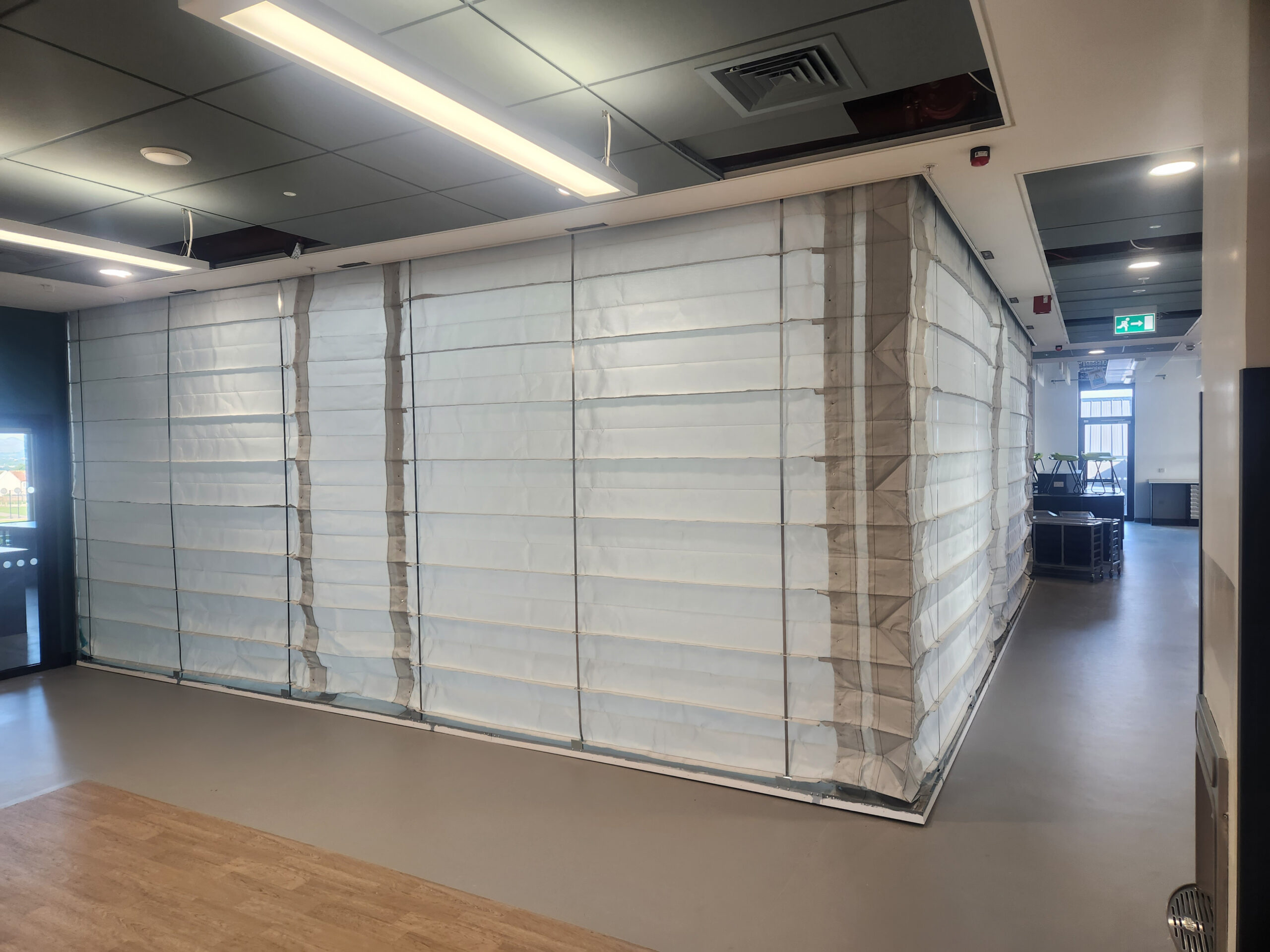 Conclusion
Thanks to the collaboration between Morrison (a Galliford Try Company), JM Architects, and Coopers Fire, Wallyford Learning Campus successfully incorporated advanced FireMaster Concertina Fire Curtains into its design. This collaboration ensured seamless project integration and compliance with fire safety regulations. The installation of Coopers Fire's Concertina Fire Curtains provides a robust solution for containing fire, while preserving the architectural vision of an open and welcoming educational facility. With Morrison's involvement as the main contractor, the entire education campus project, including Wallyford Learning Campus, stands as a testament to successful collaboration, safety, and architectural excellence