Make sure you choose the right protection from fire and smoke, in line with your specific requirements.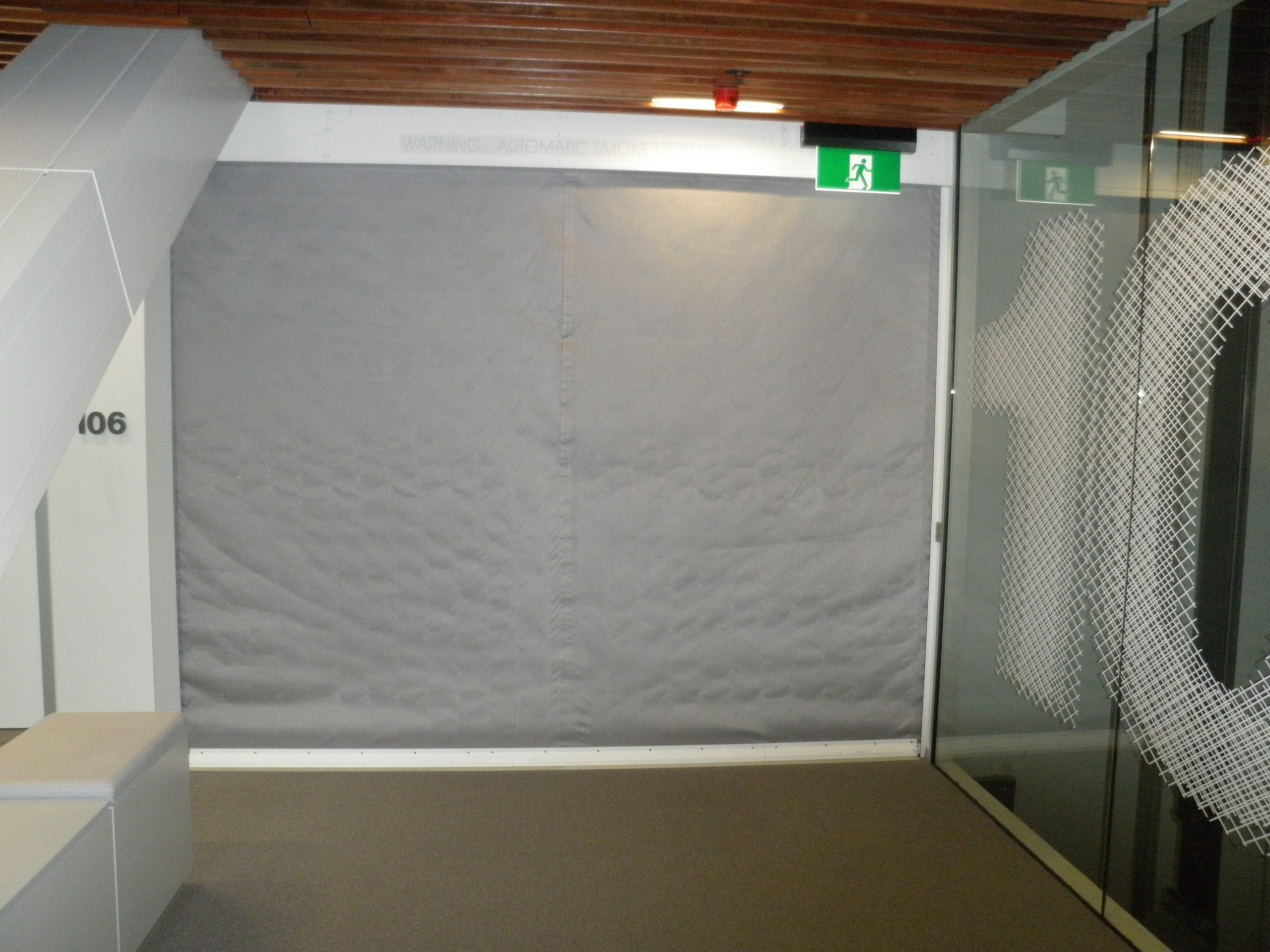 There are plenty of fire and smoke curtains to choose from when protecting your building – all with different requirements and safety standards. It may feel like a struggle to consider which is best. In this article, we discuss the differences between the two.
Fully protecting your building requires a lot of planning when designing or upgrading the protection needed.
Fire curtains work with other fire protection systems to create barriers where partitions are limited or not present. They are great for buildings that don't want to compromise on design, with the bonus of the curtain remaining hidden until needed. The fire alarm system in a building will send a signal to the fire curtain, which drops from the ceiling, preventing fire and smoke from travelling throughout the building.
Types of FIRE CURTAINS
Due to their hidden nature, fire curtains are perfect for building owners that don't want any fire protection equipment to stand out or require too much space. Numerous types of fire curtains are available:
Horizontal curtains
Horizontal curtains are often used in multi-story buildings and in atriums to help compartmentalise fire. This type of fire curtain can replace fire shutters, non-loadbearing firewalls, fire-rated ceilings and traditional vertical fire protection equipment to create modern, open multi-storey ceiling voids.
Vertical curtains
Vertical fire curtains are suitable for commercial and industrial projects such as shopping centres, office buildings or where the requirement for maintaining large open areas for access is needed.
Concertina curtains
Concertina curtains are multi-sided vertical curtains that deploy from ceilings. They are ideal for shielding areas such as escalators and staircases and do not require a side guide on corners, making them perfect for allowing open-plan building designs.
Smoke curtains create extra levels of protection to keep buildings and occupants safe from the spread of smoke, and therefore smoke inhalation. These curtains are ideal for large openings because they can seal off smoke from travelling further through the building or work in conjunction with a SHEVS system.
Smoke curtains are a good fire safety option because you can utilise them in almost every area in a building and all architectural designs.
Types of Smoke Curtains
Vertical curtains
Vertical smoke curtains are often used for atria or in large open plan spaces. They are installed in the higher parts of a structure and fixed to help assist smoke systems. Vertical curtains protect larger areas from smoke hazards.
Concertina curtains
Concertina curtains protect open spaces such as atriums, escalators and stairwells and prevent smoke from travelling further throughout the building. To install concertina curtains, you need a ceiling that is clear of obstruction.
The similarities and differences
Both curtains are designed to give building occupants more time to evacuate the building in an emergency. Depending on what the individual building requires and the type of curtains, the curtains can operate separately or together.
A smoke curtain is an essential component in a smoke ventilation system and is mainly used to maintain a higher temperature in the smoke layer to allow the smoke to rise to the extract point. Smoke curtains are not usually full height but are set at a drop height to allow people to evacuate. A fire curtain provides complete fire separation between building zones. They are often utilised to protect open stairways as a protected means of escape.
While the end goal of keeping everyone safe is the same, there are also many key differences. Each curtain uses different materials and will be tested with different safety ratings in mind. A smoke curtain is designed to only be exposed to smoke. A fire curtain will be more likely to be exposed to the fire itself, where temperatures will skyrocket – this is why fire curtains are incredibly robust and are fire rated against the standard ISO fire curve which is 1100℃.
With such different tests required, it is important to research the requirements for your building specifically.
Differences in fabric
Smoke curtains are made from fibreglass and use a specific coating that is created to prevent the curtain from emitting gas or additional smoke.
Fire curtains also contain fibreglass filaments and a special coating like smoke curtains but require stainless steel thread that allows them more resistance to direct flames and higher temperatures.
Moving forward
Some might believe that fire curtains are the best solution overall, but knowing where to utilise smoke and fire curtains throughout the building will ensure you protect the design and building occupants efficiently. Checking your building regulations or code requirements is the first step. This will determine what types of curtains you require and where you need to place them.
Regardless of their different offerings, fire and smoke curtains should be an essential part of your fire safety plans. Each curtain will help reduce the risk of fire and smoke damage to your building and will protect the occupants present.
Coopers Fire is a leading manufacturer, installer and service provider of automatic fire curtains, fire barriers and smoke curtain systems for over 30 years. We are trusted to protect the world's most prestigious buildings with innovative and discreet smoke barriers and fire curtains.
get in touch
Contact Us
Contact us today at 02392454405 or email us to find out more about how we can help protect you and your building from fire and smoke.